revised 25/08/11
Steam-Fire Engine, c. 1890
A Model in 1:90 Scale under development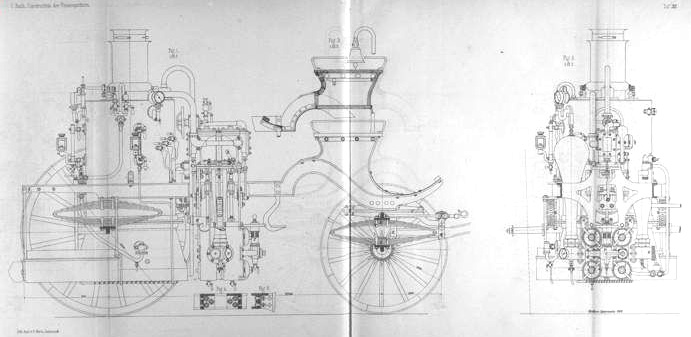 Drawing from BACH (1886)





Background




The development of efficient pumps and the steam engine from the late 18th century onward allowed the development of mobile and effective fire engines. Initially, there nothing more than the lever-operated hand-pumps, where human force had been replaced by steam power. Gradually a distinctive pattern developed in order to meet a number of specific challenges: steam had to be raised in the few minutes time between the emergency call and the engine arriving at the scene; the fire tubes of the boiler had to stay submerged during the journey on uneven or inclined roads.




Preserved Steam-Fire Engines in Europe
Below a small collection of pictures of fire engines I took around Europe.


Justus Christian Braun Engine of 1893 in the Deutsche Museum München. More details here.

Engine in the Stockholm Technical Museum

The Model
It is based on a kit by the German manufacturer
Preiser
. It has not been possible to find out which, if any of the preserved fire engines was the prototype for the kit. As all of Preiser's models it is finely molded with lots of detail. While there are good manufacturing reasons for this, it is a bit of a pity that many details have been molded-on, rather being separate pieces.
Literature
BACH, C. (1883): Die Construction der Feuerspritzen. Mit einem Anhange: Die allgemeinen Grundlagen für die Construction der Kolbenpumpen.- Stuttgart (Verlag der J.G. Cotta'schen Buchhandlung).
http://daten.digitale-sammlungen.de/bsb00036305/image_1
GIHL, M. (2011): Feuerwehren unter Dampf. Die Geschichte der Dampfspritzentechnik.- 111 p., Erfurt (Sutton-Verlag GmbH).
Selected Web-Sites

http://www.albert-gieseler.de/sphider/search.php?query=Dampffeuerspritze&search=1
(
List of steam engines by Albert Gieseler)
http://www.feuerwehr-historie.de/
http://www.m-plock.de/dampffeuerspritze.html
(Model of the engine in the Deutsche Museum München)
Contact:
webmaster at wefalck dot eu